Warren Edward Buffett
(born August 30, 1930) is
an American business magnate, investor, and philanthropist. He is widely considered the most successful investor of the 20th century
. Buffet is the primary shareholder, chairman and CEO of Berkshire Hathaway[5] and consistently ranked among the world's wealthiest people. He was ranked as the world's wealthiest person in 2008[6] and as the third wealthiest person in 2011.[7] In 2012, American magazine Time named Buffett one of the most influential people in the world.[Wikipedia) Below are some of his most famous quotations:
1. ON SPENDING.
If you buy things you do not need, soon you will have to sell things you need
.
2. ON TAKING RISK.
Never test the depth of a river with both feet
.
3. ON INVESTMENT.
Do not put all eggs in one basket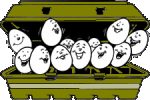 4. ON EXPECTATIONS.
Honesty is a very expensive gift. Do not expect it from cheap people
.
Your turn
. 1. Pick up one of these adages and explain how it has applied to you in a certain moment of your life. Tell us about your experience.
2. How does the adage apply in economics? Give an example.